Blog
Bexter and Cohelion make logistics chain more sustainable with TrackOnline Insights
Bexter, developer of load carrier platform TrackOnline, and data organization Cohelion are joining forces and launching TrackOnline Insights. This is a unique new reporting environment that provides insight into the availability, stocks, turnover rate and location of returnable assets such as containers, pallets, carts, bins, totes or trolleys. With TrackOnline Insights, manufacturers, logistics service providers and poolers gain detailed insight into their returnable assets. Use cases illustrate, that users are able to optimize their returnable asset management by more than 25% and thus organize the logistics chain more efficiently and sustainably.
Kevin Miedema, Technical Director at Bexter: "The pressure on logistics chains is enormous, partly due to increased demand, disrupted inventories and the shortage of raw materials. This makes the use of returnable assets increasingly important. In addition, from a sustainability perspective, more and more companies are demanding reusable load carriers. As a logistics organization, you can only respond to these developments with data that provides insight into load carrier management within logistics business processes. TrackOnline Insights provides this information at a detailed level. Based on this, organizations can make the right strategic decisions and predictions."
The pressure on logistics chains is enormous, partly due to increased demand, disrupted inventories and the shortage of raw materials.
Direct insight into trends and developments
The ready-to-use dashboards of TrackOnline Insights display the most important insights about returnable assets that are used on a daily basis to transport goods in a visual and user-friendly way. Sector-specific reports can also be produced that provide direct insight into trends and developments in returnable assets. This enables organizations to easily detect and anticipate regarding proper planning, renting and eliminate bottlenecks such as shortfalls.
Daan Boersma, Business Development Director at Cohelion: "Whereas Bexter has many years of expertise in the field of load carrier management, Cohelion specializes in analyzing data, using it to identify trends, and transforming raw data into relevant insights. This makes TrackOnline Insights a unique proposition that allows returnable assets to be deployed optimally and thus directly contributes to making the logistics chain more efficient and sustainable. Data on inbound and outbound movements can be accurately tracked in the TrackOnline Insights dashboards, as can the use and availability of load carriers at the customer level. This enables customers to work smarter."
For more information about TrackOnline Insights, click here.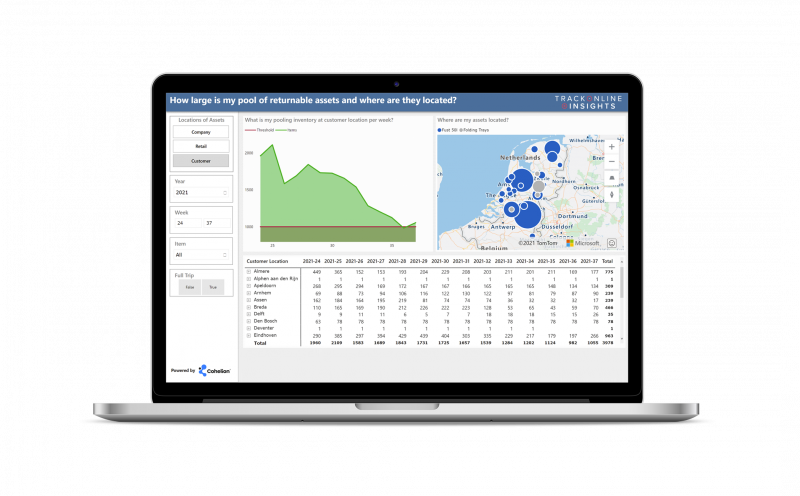 About Bexter
The team at Bexter is the creator of TrackOnline and is based in Delft. With more than 24 years of experience, the company operates worldwide in various sectors: pooling, automotive, floriculture and retail. They offer the complete solution for asset management, from booking receipts to real-time tracking of all kinds of assets with various technologies, such as RFID and IoT. The realization of efficiency, effectiveness and savings is central to this. Bexter stands for sustainability, reliability and offering the high-quality packaging platform TrackOnline that meets all the requirements of their customers.
About Cohelion
Cohelion offers innovative solutions for data integration, data management and data quality. The company was founded 20 years ago with the mission to help logistics organizations perform better through data-driven decisions. The Cohelion Data Platform makes it easy for organizations to collect and combine data from all financial, operational, inventory and HR applications into a single platform. The Cohelion team, which operates from offices in Rotterdam and Valencia, has a passion for data and works with a business-driven approach that always puts the end user first.