Cohelion approach data from a business and operational background, rather than from an IT background, which makes them a unique provider in the aviation and ground handling sector. In fact, their data platform stands out for being accessible, user-friendly, and entirely suited to business brains. This is because business acumen influenced its design right from the start. When ambitious COOs and CFOs were told their ideas for game -changing analytics were too hard, too risky, and too complex to create, they stepped up and developed the solutions they needed. With this in mind, they strive to deliver data solutions that have a direct impact on the profit and loss of their customers. They've since honed their data platform over 20 years of collaboration with industry leaders and consultants, working with great minds from Swissport and IATA, among others. They know this industry's challenges inside and out, tailoring their data platform to save aviation services firms time, money, and headaches. They appreciate, for instance, the complexity of conflicting industry coding standards. Likewise, they recognise the delicate position in which ground handlers can find themselves, caught between heavily monopolistic airports and extremely opportunistic airlines. Due to this, they see a data platform that provides accurate forecasting as an essential asset for the aviation services sector.
That is, not just financial and operational forecasting (across passengers, flights, cargo tonnage, and more) but also trickier human resources forecasting (across hours worked, employee turnover, training compliance, and further nuanced variables).
They're also widely experienced in the fast growth and M&A dynamics of ground handling, and all the associated IT complexities these can bring. Especially in the current sector climate, they're driven to offer aviation services firms the tailored data solution they need to manage takeovers and consolidations with ease — not with endless, error-prone spreadsheets. A tailored data platform, by contrast, can encompass all their operational systems across customers, locations, and services. As a result, any new systems that are acquired via their M&A processes can be easily connected. This avoids expensive delays and disruptions to a company's group-level reporting, which the outdated route of connecting data systems via migration tends to lasts for two to five years.
Fundamentally, they know the common data pitfalls to avoid in this sector, meaning teams can bypass the time they might otherwise spend explaining the obvious. This shortens the roll-out of IT and data integration, reducing both cost and time.
Aspirations for 2023
1. Enabling ground handlers to analyse profitability
In the post-Covid tumult that the sector is still experiencing, it's exceptionally difficult (yet more vital than ever) for ground handlers to pinpoint how and where profits are coming in. Our data platform for the aviation services industry gauges earnings at the flight/turnaround level — ground breaking for the sector. For established firms still reliant on spreadsheets and assumed data, the ability to work with far more granular actuals is a game-changer in this tight-margin business.
2. Cementing our position as a trusted industry provider
Over decades in this business, Cohelion have built a reputation as a trusted, independent third party, providing solutions specifically designed for the industry's needs. Bespoke profitability analysis is their leading light, with forecasting and ESG analysis close behind. All are built from Cohelion's solid backbone of data integration expertise, enabling us to deliver top quality at speed for ground handlers.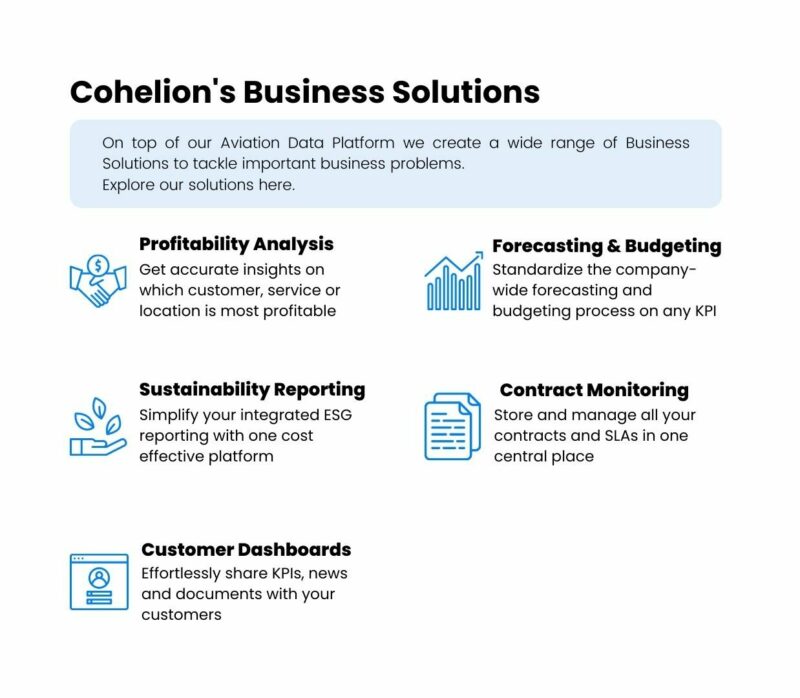 3. Pursuing valuable connections
They'll also be following up on the opportunities that attending a previous Ground Handling International conference offered them. The GHI network proved a unique place where relevant players come together, offering them all an invaluable view of the industry landscape.
As an industry veteran colleague put it, attending GHI — beyond the enriching experience itself — saves an incredible amount on marketing and travel. The industry's global C-Level is all in one place, available for the physical meetings we all know are key to good business. For Cohelion in particular, a single GHI event led to 30 prospects, roughly a third of which have a high chance of progressing. For this, they send their heartfelt thanks to GHI.
With the success of the 2022 Annual Conference, Cohelion has decided to once again exhibit at the GHI Annual Conference 2023 in Lisbon.
For more information on the conference of 2023 please visit the website.