TrackOnline Insights
The dashboards for optimal load carrier management
TrackOnline Insights is the new online reporting platform by TrackOnline where you can access the most important insights. View ready-made dashboards to see everything about your load carriers in one view. You are able to make sector-specific reports by accessing the datasets. This allows you to use your load carriers more efficiently and sustainably, reducing overall costs.
Download the onepager
Receive this information about TrackOnline Insights in your inbox.
The benefits
Quickly get insights into trends and developments of load carriers


Years worth of experience translated into essential dashboards.

Zoom in on every level


Click through until you get the information that you need from client level to load carriers.

Back up important strategic decisions with data


You're only a few clicks away from a new report; discover new insights that are important for your organization.

Plug and play


Get insights on your load carriers in record time without any development or training.

No hassle with TrackOnline and your dashboards


Immediately see every data change in TrackOnline back in your most important reports.
What does TrackOnline Insights offer?
With the new online reporting platform you will get detailed information about:
The size of the total pool of load carriers.

The location of all load carriers.

Amount of lost or defective load carriers.

Possible shortages.

Bottlenecks that could interfere.

The average cycle time of the pool.

Create strategic reports including multiple TrackOnline administrations.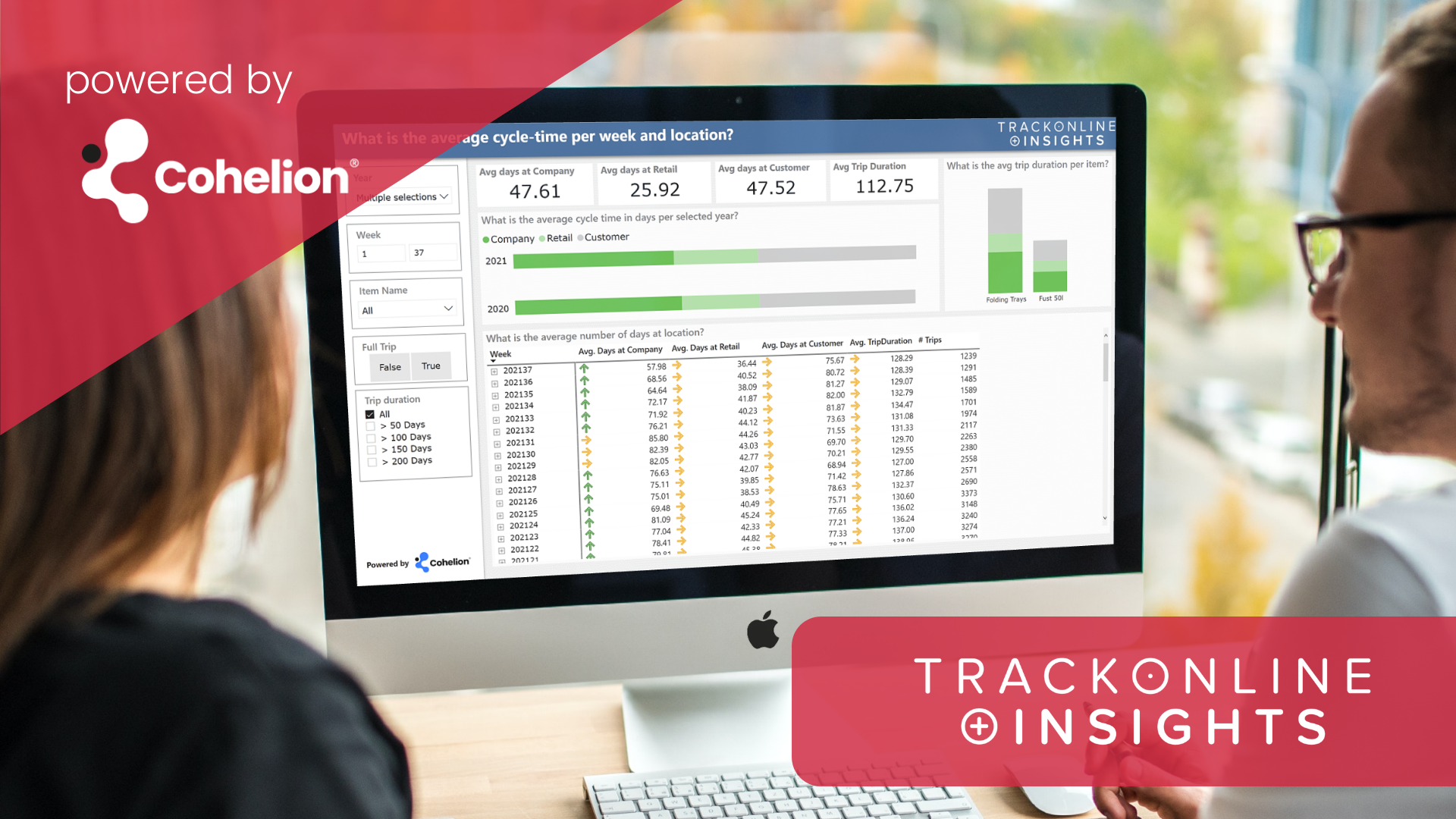 TrackOnline Insights is developed in collaboration with Cohelion. Do you want to add more applications or data sources to your reports besides TrackOnline? Then expanding to the Cohelion Data Platform is a logical next step. With the Cohelion Data Platform you can easily connect and combine data from all your finance, operations, and HR applications in one central place. Therefore, you get direct access to the right insights and company data.
Curious to know more about TrackOnline Insights?
Get in touch!
Contact